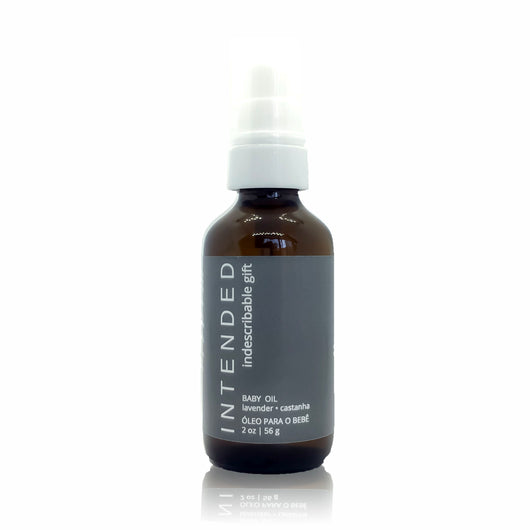 Indescribable Gift | Lavender Baby Oil
Regular price $ 20.00 Sale
Gentle and rich nourishing body oil to moisturize and soften delicate skin from mama & baby.
This oil is made with antioxidant CO2 rosemary extract and vitamin E oil. Soothing cold pressed avocado, olive, and sweet almond oils combined to excellent hydrating, emollient and skin protectant properties of Amazonian Castanha oil.
Calming floral notes of lavender and a natural nutty touch of sweet almond and castanha oils will create a relaxing atmosphere after a shower or during massage time.
Tip: Great to enhance baby massage time, a way for you to gently nurture and spend time with your baby. Use a gentle touch, rubbing motions and slowly extend and flex your baby's arms and legs.
2oz / 56g
100% Natural, Vegan
Ingredients Helianthus annuus (Sunflower) seed oil, Olea europaea (Olive) fruit oil*, Prunus amygdalus dulcis (Sweet Almond) oil, Persea gratissima (Avocado) oil, Bertholletia excelsa (Brazil) nut oil, Simmondsia chinensis (Jojoba) seed oil, Lavandula officinalis (Lavender) oil, tocopherol, Rosmarinus officinalis (Rosemary) leaf extract. *Certified Organic.
This product is intentionally free of:
Parabens, phthalates, mineral oils, acrylamides, sulfates, dyes, and petrochemicals.
How to use:
Perfect any time, especially after a bath. Run on the skin to moisturize and soften. This baby oil contains lavender essential oil. We suggest testing the oil first by applying a small amount to a small area of your baby's skin and watching for a reaction.
You will get the most of your Intended luxury natural product by using within 9 months of purchase.
Our products nourish and moisturize the skin. It is not intended to diagnose, cure, treat or prevent any medical condition.