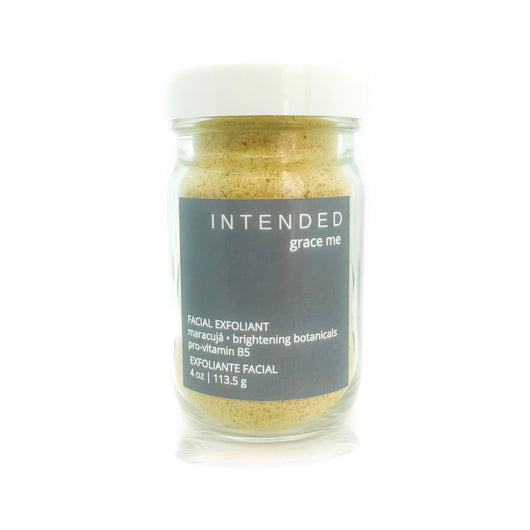 Grace Me | Facial Exfoliant | Facial cleanser | Facial Mask
Regular price $ 22.00 Sale
Three in one gentle facial exfoliant, cleanser and mask. Exfoliate with plant grains, removing dull and dead skin. Natural source of vitamin C to reveal bright and renewed skin.
Oats and corn will gently exfoliate and cleanse without drying delicate skin. Maracujá flower leaf provides vitamin A, C, niacin, and phytosterols, which support youthful and firm skin. It contains alkaloids like Harman providing calming and soothing properties.
Grace me is made with a natural, plant-based brightening complex including sweet orange peel, calendula, chamomile, and arnica to help prevent dark blotches overtime. Pro-vitamin B5 has the potential to improve the appearance of the skin, protecting from dryness. Its moisturizing properties reduce water loss, improving stratum corneum hydration and keeping the skin soft and plumped. Kaolin lava clay will help to replenish the skin with minerals.
Grace me is laden with coconut meat fatty acids for deep nourishment of problem skin. Mix the grains with water, oil or honey and apply the product onto the skin for 10-20 minute to help restore moisture in dry skin.
2 oz | 56.5 g
100% Natural, Vegan.
Ingredients: Avena sativa (Oats), Cocos nucifera*, Zea mays (Corn) kernel meal*, Citrus aurantium amara (Bitter Orange), kaolin, Passion flower (Maracujá) leaf powder*, sodium bicarbonate, Calendula officinalis (Calendula) flowers, panthenol, Arnica montana flower, Matricaria recutita (Chamomile) flower, Citrus aurantium dulcis (Orange) oil. * Certified Organic.
How to use:
Exfoliant and cleanser: Sprinkle a small amount of water to a teaspoon size of the product on your hand. Gently massage and exfoliate with a circular motion for 1-2 minutes and rinse the skin. Use this product 2-3 times a week. Follow with our facial oils.
Mask: Add a teaspoon of facial exfoliant in a small container. Activate the product with water, oil or honey. Mix and apply the product onto the skin. Leave on for 10-20 minutes, then rinse. Follow with our facial oils.
You will get the most of your Intended luxury natural product by using within 12 months of purchase.
Our products nourish and moisturize the skin. This product is not intended to diagnose, cure, treat or prevent any medical condition.