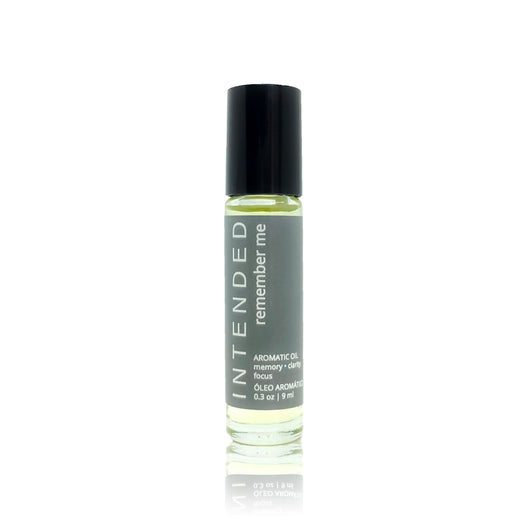 Remember Me | Aromatherapy oil
Regular price $ 10.00 Sale
Our aromatic oils are carefully selected and blended based on scientific information from each essential oil for effective and enhanced mind and body well-being.
A minty, herbal blend combined with the warm touch of frankincense to boost your memory.
The roller ball applicator is practical and provides a soothing and pleasant self-care experience.
0.30 oz / 9 ml
100% Natural, Vegan.
Ingredients: Vitis vinifera (Grape) seed oil, Helianthus annuus (Sunflower) seed oil*, Prunus amygdalus dulcis (Sweet Almond) oil, Simmondsia chinensis (Jojoba) seed oil, Rosmarinus officinalis (Rosemary) leaf oil, proprietary blend of essential oils. *Certified Organic.
To use:
Apply to temples, pulse points, chest, the palm of hands, bottom of the foot. Use as needed.
This product is intentionally free of:
Synthetic fragrances, synthetic colors, synthetic preservatives.
You will get the most of your Intended luxury natural product by using within 6 months of purchase.
Our products nourish and moisturize the skin. It is not intended to diagnose, cure, treat or prevent any medical condition.