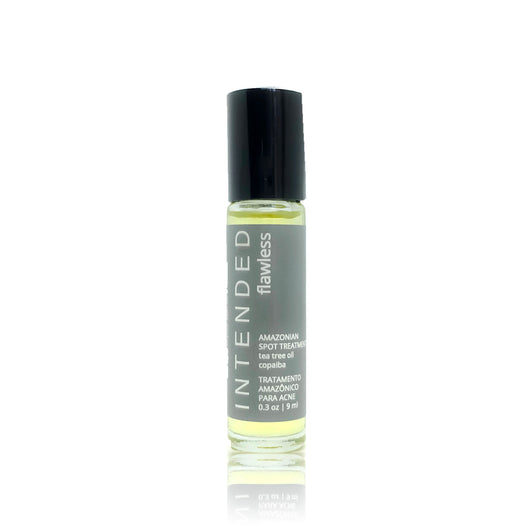 Flawless | Tea Tree Blemish Oil
Regular price $ 15.00 Sale
Tea tree oil concentrate with a touch of camphor combined to conditioning oils to help comfort and protect blemished skin.
The waxy properties of jojoba oil and  the soothing properties of castor oil provide a protective layer preventing the skin from drying and further damage. Flawless contains Brazilian copaiba oil. Copaiba is known, among Amazonian communities, for their restoring properties. 
For better results use it often and at early signs of acne eruption. For sensitive skin, we suggest doing a skin patch test to check for an adverse reaction.
Ingredients: Simmondsia chinensis (Jojoba) seed oil, Ricinus communis (Castor) seed oil, proprietary blend of essential oils, Copaifera officinalis (Copaiba) oil.
0.33oz | 10ml
100% Natural, Vegan.
How to use: Apply to clean skin nightly and/or 3-5 times a day with a Q-tip or clean finger until blemishes disappear. This product should be applied only to blemishes.  Individual results may vary.  Avoid using Flawless at any sign of irritation.
You will get the most of your Intended luxury natural product by using within 12 months of purchase.
Intended Cosmetics does not make any claims to treat or cure acne or any other skin condition with our products.